What is MyCard?
MyCard provides users the access to pay for 1,000+ digital content worldwide. The safe and easy features of this payment platform allow buyers to purchase premium content of online games and services in a convenient, hassle-free environment. Enjoy all your favorite games via MyCard today and discover your shortest route to online entertainment.
Why use MyCard?
Registration free
Tired of member registration? Now you can enjoy the freedom of credit reloading without membership
Easy to get
You can get MyCard right from your PC or at a location near you!
More payment options
No credit card or PayPal? No problem, MyCard allow you to pay safely with cash and other alternatives
Great exchange value
Get more game credits with MyCard!
Special bonus and reward
Get special in-game bonuses and rewards with MyCard!
How MyCard works?
There are several ways for users to reload credits for games/digital content via MyCard: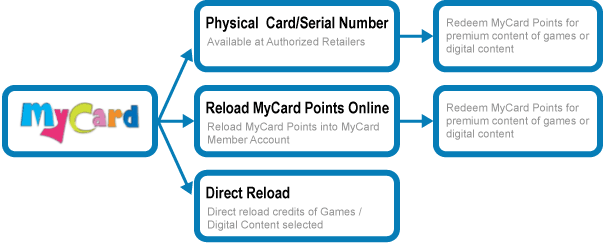 Click the icon of your preferred method to start reloading!
**MyCard membership is required to reload MyCard Points online
**Direct reload is not available for Facebook Credits, click here to learn how to reload Facebook Credits online